Jan. 04, 2022
As a processed food, the safety and security of ham sausage is very important. Meat is a perishable food. The biological cause of spoilage is the growth of bacteria. Sausages must undergo high temperature cooking and other processing before they are sealed and packaged. Sausage clip manufacturer SHENGMAO is here to tell you about the sealing machine.
A sausage U-clip is a fastener used to seal both ends of a ham sausage. Don't look at it as small, but it is very useful, effectively preventing oxidation, deterioration, and is not affected by bacteria. In order to ensure the storage and preservation of ham sausage, and beautiful and practical, it plays a key role in the process of food preservation, so sausage is widely used in the food business.
In the process of producing sausages, tools such as sausage bag sealing clips, clips pneumatic and sealing machines are needed. Nowadays, the sealing machine is very commonly used in the packaging production process. The use of sealing machine is mainly for sealing and preserving the products, which not only can maintain the quality of the products, but also can avoid the loss of the products during the transportation. Almost all products must be packaged and sealed before they leave the factory. An expensive sealing machine may not be suitable for your product, so you still need to choose the right one.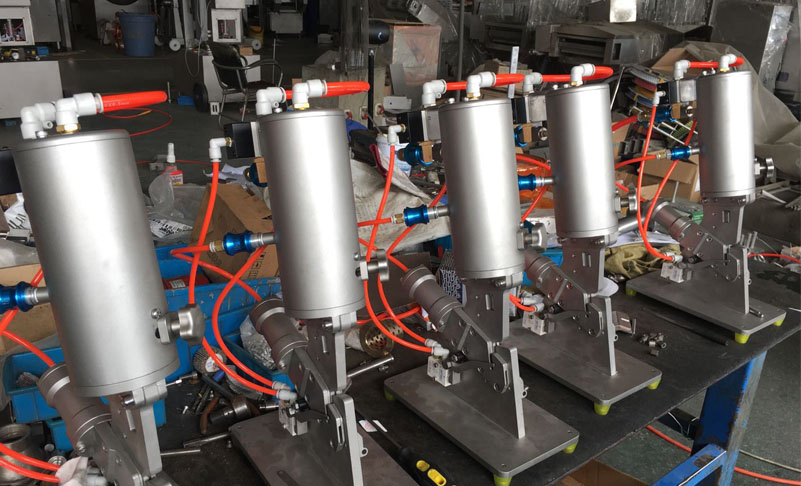 Whole Chicken Packaging Pneumatic Clipper Machine
Before you buy, pay attention to the type of sealer.
Hand Press Sealer
Suitable for sealing all kinds of plastic films, simple sealing and easy to use, suitable for simple plastic film sealing treatment in home or store.
Foot-operated Sealing Machine
The foot-operated sealing machine can seal all kinds of plastic films, laminated films, aluminum-plastic films, multi-layer laminated plastics, etc. It is a new type of, ideal sealing machine equipment. This machine belongs to the "heavyweight" of the sealing machine series, it is made of stainless steel casting, equipped with super power transformer, up and down adjustable weight sealing, trailer, fast ultra-short sealing time, high efficiency, and has the irreplaceable function of general sealing machine. And the foot-operated sealer can be heated in a single layer or up and down according to the thickness of the film to achieve a more ideal sealing effect.
Pneumatic Sealing Machine
When it comes to many thick bags such as raw material bags, pearl cotton bags, etc., the use of foot pedal is sometimes more laborious and time-consuming, and the sealing effect is not ideal, then this time to choose the pneumatic sealing machine, pneumatic sealing machine It is a novel pneumatic and electric integration packaging machine, is an indispensable and necessary method in the field of soft materials, storage, moisture-proof transportation of products. The machine is powered by compressed air, with adjustable sealing pressure, stable and reliable quality, and can be operated manually or by foot switch, which is light and simple.
SHENGMAO not only sells sausage clamps, but also enema and sealing machines for your production. Please contact us to get a quote.