Oct. 31, 2022
A meat vacuum mixer has two shafts for mixing, with its specialty switching between clockwise and counter-clockwise rotation, the meat mixing speed and effect produced can be greatly improved. The meat vacuum mixer is made of full 304 stainless steel built to greatly facilitate your cleaning operation.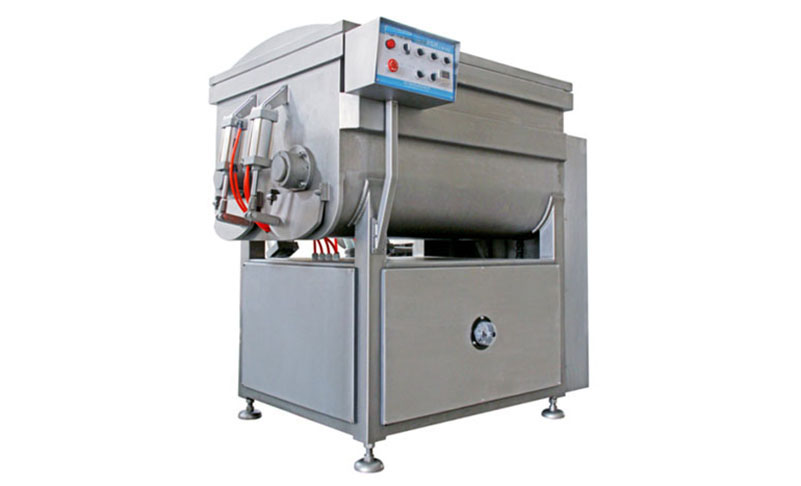 meat vacuum mixer
Here are some advantages of the big-capacity vacuum mixer.
1. Double action mixing arm features paddles that gently lift and mix product.
2. Easily removable mixing arm for better sanitation.
3. Automatic feeding. The specialty pneumatics built-in can automatically open and close the cover and th
4. Improves moisture and protein retention.
5. Reduces bacteria count and contaminants.
6. Produces a quality product with minimal temperature rise.
7. Increased yields through even distribution and gentle blending of meat, fat, spices, and other ingredients.
8. The vacuum level is adjustable to your option, making a more evenly-distributed raw material for better product quality.
9. The air trapped in the materials during front-end production processes can be sucked out, and oxygen-free disinfection can be made to the materials, and consequently, the shelf life of your products can be extended.
In summary, the meat vacuum mixer maintains the optimum temperature of the meat during the mixing process and is recommended for the processing of raw minced meat. Maintaining a given temperature at a required level prevents the development of microbes and also makes it possible to obtain optimum protein bonding, stabilizing the natural color of the products, increasing the production output, and finally a high production quality with keeping the microbiological safety independent of temperature conditions.

Feel free to contact us for a free quote.